Marietta — Marietta author Karen Winters Schwartz was at Creekside Books and Coffee in Skaneateles Sunday to discuss her second published novel, "Reis's Pieces: Love, Loss, and Schizophrenia." She took time to answer a few of our questions.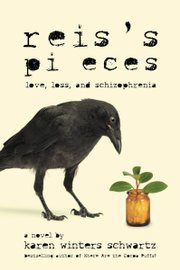 What was the inspiration for "Reis's Pieces"?
"At the time I first began to write, I knew nothing about these illnesses. Although I'm currently working on my fifth manuscript (I have completed four manuscripts, two of which have been published so far), a lot of people don't know that Reis's Pieces is my very first novel — the first manuscript I ever put down on paper — and I wrote this novel perhaps as long as fifteen years ago. 'Reis's Pieces' was inspired by a dream. Somewhere in the middle of my mid-life crisis, when my two daughters were just adorable little girls, I woke up from this really intense dream. In this dream there was this guy who was acting totally irrationally, but the female counterpart of this dream was inexplicably attracted to him. I woke up moved not so much by the story of the dream but by the passion that this dream elicited—that this woman could feel so strongly about someone who was clearly not quite right. And for some reason, I was moved to write that passion into a novel. So I started researching mental illness.
… And that first draft was okay. There was some really good writing here and there, and I'd fallen hopelessly, madly in love with Reis. Like Kelly in the book, I loved him in spite, and because, of his mental illness.
Then devastated by a handful of rejections from publishers and agents, I stopped writing. And went on with my life.
And you know, I don't think I'll ever be able to explain the mystery of being initially drawn to this topic that has now, fifteen years later, become such an important part of my life — why I dreamt that dream. But it was ten years later — ten years after the dream — ten year after I'd written that novel — that mental illness hit my family with what felt like a small bomb. Suddenly, in a very short period of time, it seemed like half my immediate and extended family members were struggling with mental illness.
(Continued on Next Page)
Prev Next
Vote on this Story by clicking on the Icon