Baldwinsville — A convenient store on State Fair Boulevard in Van Buren was robbed by a female suspect.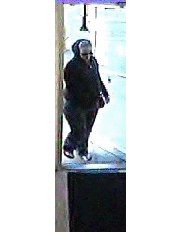 At 8 p.m. Thursday, June 7, Sheriff's patrol deputies and detectives responded to 7167 State Fair Blvd to investigate a robbery at the Kwik Fill convenient store. Detectives said a white female in her mid- to late-20s, 5'3" and 170 pounds with copper colored hair walked in to the store and demanded money from the clerk. Wearing blue jeans and a black knit sweater with a hood and sunglasses, the female suspect kept her right hand in her sweater at the time she was asking the clerk for money. The clerk gave the female suspect an undetermined amount of money after which the female suspect left the store. The clerk was not injured during the robbery.
Sheriff's detectives are asking anyone that may be able to identify the female suspect from the accompanying photos taken from the scene of the robbery to please contact Sheriff's detectives at 435-3082 or notify the 911 center.
Vote on this Story by clicking on the Icon