DeWitt — Members of the DeWitt Police Department braved 90-degree temperatures on Monday, June 11, to run in support of an organization they believe in: Special Olympics New York.
As part of the annual Torch Run for Special Olympics, the officers jogged from one side of DeWitt, starting near the Fayetteville Town Center, to the other. They ended at Holy Cross Church on East Genesee Street.
"This is law enforcement's support of the Special Olympics," said DeWitt Police Chief Eugene Conway.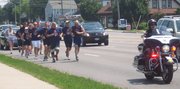 The Law Enforcement Torch Run is one of many fundraisers that help benefit the participants of the Special Olympics. In the winter, Conway said members of the DeWitt Police Department also participate in the Special Olympics Polar Plunge at Oneida Shores Park.
Conway said the DeWitt Police Department takes part in the torch run each year because it's important to show support for local organizations like the Special Olympics. While running, officers carry the torch that will help kick-start the New York State summer games June 15-17 in Buffalo.
The torch started in Utica, came to Onondaga County and will be passed to law enforcements departments in Cayuga County next, said Kayla McKeon, a Special Olympic athlete.
Due to the extreme heat and humidity in the region, paramedics accompanied the officers on their run in order to provide water and any needed medical attention to the joggers. The officers were also accompanied by a number of police vehicles.
Cassandra Rucker, director of development for Special Olympics of New York, Inc., said the organization holds more than 30 regional events throughout the year in Central New York. Last year, she said, nearly 56,000 athletes participated in the Special Olympics.
This year more than 3,000 members of law enforcement are taking part in the Torch Run in an effort to help support the Special Olympics, Rucker said.
One thing the organization is looking to do is expand its social media efforts, Rucker said. "It's the best way for people to keep up with the events we have coming up," she said.
Rucker said the organization is also always looking for volunteers. Those interested in volunteering for the Special Olympics or donating to the organization can call the regional office at 314-6839, or search "Special Olympics New York — Central New York" on Facebook.
Vote on this Story by clicking on the Icon