Delta Air Lines New York senior vice president Gail Grimmett presented a sizable check for $20,000 to YMCA officials Tuesday afternoon at the East Area Y in Fayetteville.
Grimmett addressed a crowd of YMCA officials, employees and youth members before presenting the check to YMCA CEO Hal Welsh and Bob Jokl, president of the YMCA of Greater Syracuse Board of Directors.
"The Y does some very important work, whether it's through the programs, or through camp, or through opportunities … but it's not about just flying to Syracuse. We don't just want to serve the community, we want to be a part of your community," Grimmett said.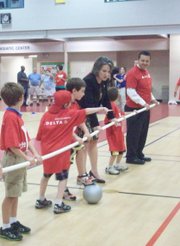 The money will go toward helping kids and families who cannot afford a membership at the YMCA, Grimmett said. It will also be used to support the YMCA summer programs and afterschool programs.
Grimmett said Delta is giving this donation to the YMCA to help reach more people who otherwise would not have the opportunity to take advantage of all of the organization's programs.
Board chair Bob Jokl said the organization is very fortunate to have received a donation of this size. "This check will help us fulfill our promise, and that is to strengthen our community," he said.
Jokl said the YMCA welcomes all people, including those who may not be able to afford a membership on their own. This need appears to be growing, Jokl said. Last year, more than 11,700 local adults and children were able to participate in YMCA programs because of the organization's financial assistance, Jokl said.
"We rely on the generosity of donors like Delta to ensure that we can continue to offer financial assistance to all that need it," he said.
After accepting the check from Delta officials, YMCA officials and employees were joined by Delta employees, members of the Syracuse Silver Knights professional soccer team and more than 100 kids for a game of human foosball. Participants also conquered an obstacle course, complete with hurdles, ladders and more.
Although it was a day filled with fun and games, in the end, Grimmett said it all boils down to one thing: helping others.
"We want to provide as many people as possible that opportunity because everybody should have the opportunity to participate in the YMCA program," she said.
Vote on this Story by clicking on the Icon