Baldwinsville — United States Air Force Col. Scott R. Weichert, a Baldwinsville native, was promoted to full Colonel on April 1.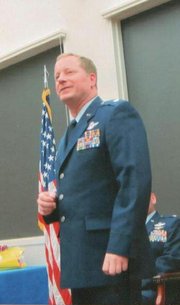 Prior to his promotion, Weichert served as commander of the 97th Airlift Squadron at McCord Air Force Base in Tacoma, Wash. He recently relinquished command to Col. Garin Tentschert so that he could be transferred to USAF Mobility Command headquartered at Scott Air Force Base in St. Louis, Miss., which delivers all supplies and necessary men and equipment to Iraq and Afghanistan. The base also provides direct support for the Antarctic Scientific Expedition, where Weichert made news last year with his first ever night vision landing at McMurdo Sound.
Weichert, son of Robert and Susan Weichert, grew up in Baldwinsville and graduated from Baker high School in 1983. After earning a bachelor's degree in industrial engineering from Clarkson University, Weichert entered the Air Force through the Reserve Officer Training Corps and was commissioned in 1987. He is now a C-17 Examiner Pilot with more than 6,500 military flight hours.
Weichert currently holds a masters degree in organization leadership and will begin a one-year active duty program beginning July 1 to earn his second masters degree at the Army War College at Carlisle Barracks in Pennsylvania. He currently lives in Colorado with his wife, Pauline, and their son, Jacob.
Vote on this Story by clicking on the Icon