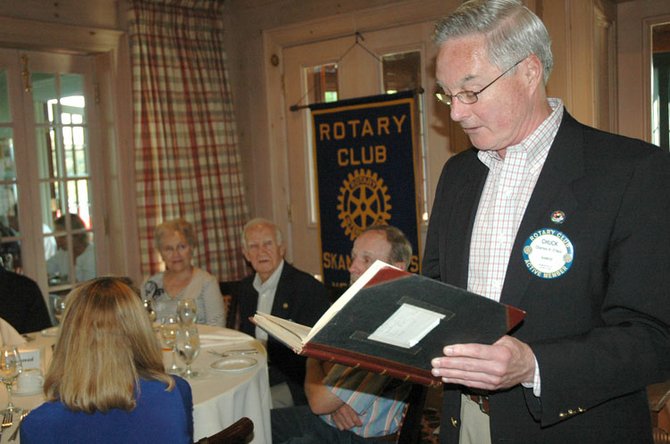 Skaneateles — Just over a week before the 44th annual Rotary Father's Day Pancake Breakfast, Rotary members honored the man who helped found the event in 1968.
Dana Coye was honored for 50 years in Rotary during the organization's regular weekly meeting on Thursday, June 7.
"Tonight, we are here to honor a special Skaneateles Rotarian who has reached that major milestone, 50 years of Rotary service to his community and the world," Rotary President Chuck O'Neil said after family members appeared at the meeting in a pre-arranged surprise party for Coye. Coye and his wife, Dot, owned and operated the Skaneateles Bakery for 30 years.
Joining Coye at the dinner meeting in his honor were his wife, Dot; his son Jim Coye and wife Judy; his daughter Connie and her husband John Bouck, and a grandson, Ryan Coye.
As a part of the ceremony, O'Neil read from a tattered old book of minutes which detailed what the Skaneateles Rotary Club was doing 50 years ago. In the minutes, someone recommended a new member to the club: Dana Coye. He has been working in Rotary ever since.
Rotarian Phil D'Angelo quipped that everyone loves Coye, who is "a sweet man who had a sweet business."
In honor of Coye, O'Neil read a statement about the meaning of Rotary membership. "Rotary's 1.2 million members believe it starts with a commitment to 'Service above Self'," he read. "There is something that all Rotarians have in common. They take action. As community volunteers, they reach out to neighbors in need. They build, support and organize. They save lives. They work locally and globally. A Rotarian's main focus is service — in the community, in the workplace and around the globe. However, few are the number of Rotarians, who have served others for 50 years."
O'Neil also read a recent column from the Rotary weekly newsletter, titled "Can you name this Rotarian?" that gives a bit of history on Coye:
(Continued on Next Page)
Prev Next
Vote on this Story by clicking on the Icon