Burr said regularly training on the Charles River with other BC rowers gives the team the competitive edge of a home-filed advantage during larger, well-known regattas like the Head of the Charles.
Following her freshman season at BC, Burr was given the "Walk-on of the Year" award, and was named to the Atlantic Coast Conference 2012 All-ACC team.
Her time of 7:08 for rowing a 2K race on an ergometer this past March is the freshman record at BC, and the second-fastest women's time overall.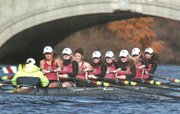 Although Burr said she has much more to learn about the sport and needs a great deal more experience, she uses the thought of someday rowing with the USRowing Under 23 National Team as incentive. "It's definitely a goal, but I'm taking it step-by-step," she said. "It is motivating to … see the possibilities of where this sport can take athletes."
As a member of the Cazenovia High School Class of 2011, Burr was a standout athlete, helping to lead the varsity girls basketball team to three Section III Championships and the state final four in 2011; the varsity girls track and field team to the 2011 state competition - where her team placed sixth in the 4x400 relay; and the varsity field hockey team to three Section III Championships and its first-ever New York State Championship her senior year.
Aside from athletics, Burr was an integral member of the high school's music department, participating in the orchestra, string ensemble, women's choir and chamber choir. She coached a CYAA basketball team, was a member of Project CAFÉ, the National Honor Society, Tri-M Music Honor Society, the high school drama club and student council – where she served as president her senior year. In addition, she graduated as an AP Scholar with Distinction.
She said she has recently considered joining the Cazenovia Rowing Club, but admittedly hasn't been able to find the time between her studies, training and reprising her role as a counselor at Lourdes Camp in Skaneateles upon her return from the USRowing freshman camp. "But, there's always next year," she said.
For more information on Burr's athletic career with the BC Eagles, visit bc.edu. To learn more about the competitive sport of rowing at a national level, visit usrowing.org — and at the local level, visit cazrow.org.
Pierce Smith is editor of the Cazenovia Republican. He can be reached at 434-8889 ext. 338 or editor@cazenoviarepublican.com.
Vote on this Story by clicking on the Icon