Both Vogl and Division II winner, Skylar Pastor of South Jefferson, were faster than any Division I runner. Vogl earned a trip to States based on her exceptional school record time of 57.80 set two weeks earlier.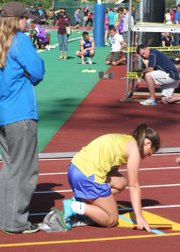 Relay teammate Ashley Kent also ran well individually, hitting 17.75 in the 100-meter hurdles while relay alternate Liz Pittman competed for the Lakers in the pole vault based on her exceptional 9-0 performance at sectionals.
Caroline Marshall lived up to her billing as the top 1,500-meter runner in Division II, capturing first place in 4:48.17, more than six seconds faster than the runner-up. Her school-record time of 4:44.59 set at the sectional championship will be used for her seeding at States.
Fellow distance runners Jeanette Cudney and Rae Tobey both wrapped up stellar seasons, finishing fourth and sixth respectively in the 2,000-meter steeplechase. The duo are the two fastest runners in the event in school history.
Cudney, a sophomore, ended the season with the all-time record of 7:35.37 while Tobey concluded an incredible career that saw her contribute to six sectional titles as a Cazenovia runner.
Paige Biviano earned her fourth consecutive trip to the State Championships in the pentathlon with a strong second place finish in Division II at 2962 points. Just 100 points from her school-record total of 3062, she easily met the state standard to advance. She was solid in all five events but left room to improve next week as she pursues a state title after winning the silver medal last year. She hit 16.85 in the 100-meter hurdles, 5-1.75 in the high jump, 16-3.75 in the long jump, 2:37.29 in the 800 and threw a career best 30-11.25 in the shotput for her impressive total.
The Lady Lakers will return to C-NS on June 8 and 9 to face the best of the best from across the state. This is the fourth consecutive year the team has been represented at the state meet. They hope to improve on last year's best-ever total of six medals in the competition.
Kurt Wheeler coaches the Cazenovia girls track and field team. He can be reached at 655-1314 or kwheeler@post.harvard.edu.
Vote on this Story by clicking on the Icon