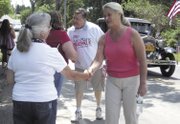 Spafford — The Spafford area community turned out on Sunday, May 27, to honor Memorial Day with a parade and celebration from the Borodino Fire Hall down Nunnery Road to the veterans memorial at the four corners.
Participating in this year's parade were members of the Bordino Fire Department, Spafford Fire Department, Veterans of Foreign Wars, SAVES Ambulance, Honor Guard from American Legion Post 317 in Skaneateles Falls, Lions Club of Martisco and the Spafford Town Board.
Nearly 200 people lined the two-tenths of a mile of the parade route — the shortest parade in Onondaga County — to watch and cheer the participants.
"It's not the length of the parade, it's the spirit that's behind it," said Lou Hanlon, Spafford Town Board member and one of the organizers of the event.
Spafford Town Supervisor Webb Stevens welcomed everyone to the parade and ceremonies at the Veterans Memorial in Bordino.
Major David Venezia addressed the crowd on the real meaning of Memorial Day, and the gratefulness of the nation for its service men and women who sacrificed their lives so all citizens can live in a free country.
Congresswoman Anne Marie Buerkle, who walked the parade route and greeted residents, was the keynote speaker. She spoke about the sacrifice so many veterans have made to protect America's freedom and how we must never forget and always show our appreciation for their sacrifice.
After the ceremonies ended, a reception at Borodino Hall was held by the Spafford Area Historical Society.
Jason Emerson is editor of the Skaneateles Press. He can be reached at editor@skaneatelespress.com.
Vote on this Story by clicking on the Icon