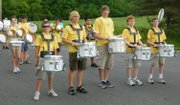 Skaneateles — The Skaneateles Laker Drumline made its debut to the community at last week's Memorial Day parade, as more than 20 students from grades seven through 12 put on a show during the march that garnered much applause along the parade route.
The drumline consisted of 13 drummers, nine dancers with sparkling blue and gold pom-poms and four banner carriers.
"These kids worked really hard for this. We're very pleased and excited for the village to see them," said the new high school band director and drumline creator, Maureen Van Vechten. "The most exciting thing about this is that it is our kickoff. Next year we want to perform during more school and sporting events and really rev this thing up."
Van Vechten, who succeeded retiring band director Angelo Candelo this year, came from the Morrisville school district, where she also started a drumline.
"The intent is to create a unique and interesting additional musical opportunity for any students who want to participate, including those not in the music program," Van Vechten said. "The group rehearses as a concert percussion ensemble during the fall and winter, changing gears into a marching percussion unit for the Memorial Day in the spring."
Creation of the new drumline in Skaneateles was a combination effort between the school district, the Skaneateles Central Schools Music Boosters and the Skaneateles Music Guild.
The guild and the boosters together raised approximately $5,000 through various fundraisers, which was used to purchase most of the drums (snare, bass and tenor), halters, covers, music stands and other equipment used by the students, said Kim Driscoll, president of the Skaneateles Music Guild.
Both the guild and the boosters are comprised of community members seeking to support and help the school music programs, teachers and students through fundraising, donations and public awareness efforts.
(Continued on Next Page)
Prev Next
Vote on this Story by clicking on the Icon
More like this story