Marcellus — "June 7 is the date for the first Marcellus Open Air Market in Marcellus Park," said Becky Muir.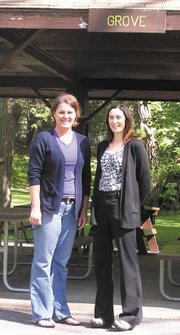 She and Erica Leubner sat around the big farm table enthusiastically describing the opening of the Marcellus Open Air Market. They call it MOAM, for short. But there is nothing short about this community effort to bring locally sourced products to the people in Marcellus and the surrounding areas.

Beginning at 3:30 p.m. and continuing through the Thursday evening concerts to 7:30 p.m., Marcellus Park will host a veritable country faire of vendors representing local farms, wineries, bakers, artisans, crafters and entertainment.

"We'll open in the Grove Area of the lower park in June and then move to the Upper Park after the end of baseball season," Muir said.

Becky and Erica are only two of a dedicated group of people who see this as a unique opportunity to provide a way for individuals and families to interact with local producers of a variety of goods and services.
While the Marcellus Open Air Market will bring producers and consumers together in the attractive setting of Marcellus Park, there will be concurrent activities for children and adults accompanying the market. Marcellus Town Parks and Recreation department is coordinating the usage of the park, providing support for the planners and making the Farmer's Market Nutrition Program, a state program, available to low income residents who wish to shop at the market.
Entertainment is woven into the mix so that the event is much like an old fashioned market day where rural based farmers and artisans gather to sell their wares in the village or town. The Marcellus Free Library will hold readings for children, Dena Beratta will have a hooping class and individual entertainers are being lined up to provide a musical background to the market. During one of the week's markets, the children will be able to have fun in a bounce house. A modest beginning with 19 or so vendors will include local wineries, farm products, artisans, beef producers, honey and baked goods with vendors including those from Byrne Black Angus, Hippie Love Granola, Booten Gluten Baked Goods, Tim's Pumpkin Patch, Hoddie's Grape Jelly, Pottery by Ryan, ICJ cookies, Sundance Farms, Montezuma Winery, Beak and Skiff Winery, Zimmer's Bakes, Nelson's Produce, First Cup, Otisco Lake Marina, Sparrow Flowers and Gardens, Schoolhouse Farms, Anna's Flowers and Vegetables and Unite Two Design with plans to add more as interest and space becomes available.

(Continued on Next Page)
Prev Next
Vote on this Story by clicking on the Icon