Already the authors of a historic campaign with its first-ever Section III title, the Cazenovia baseball team wanted more - but could not get it, thanks to the work of a long-time power and a potent pitcher.
Just after the Lakers won the weather-delayed Class B-2 final over Sherburne-Earlville 10-1 on Thursday, it was supposed to return to Alliance Bank Stadium Friday afternoon and face B-1 champion Westhill for the overall sectional title and a first-ever berth in the state tournament.
Again, rain got in the way, pushing the show back to Saturday night and moving it back to Rome's DeLutis Field, bringing the week-long saga full-circle.
However, it brought an end to the Lakers season, too, as it lost 8-1 to the Warriors.
No doubt, Westhill, the state champions in 2009 and 2010, had remembered the 5-1 defeat it took at Cazenovia on May 4 when the Warriors were undefeated and atop the state rankings.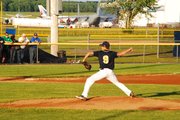 David McEntee won that game, and would start here, too – but the bad part was that the week of delays allowed Westhill to pitch its left-handed ace, Alex Godzak, who had thrown five innings way back on Monday when the Warriors beat Utica-Notre Dame 12-3 for the B-1 title.
Godzak, who his heading to Canisius College, proved close to unhittable. He flirted with a perfect game, retiring 15 straight batters before McEntee doubled in the top of the sixth. McEntee eventually scored, but that was the lone blemish as Godzak threw a one-hitter and struck out 13.
Meanwhile, Westhill got to McEntee with two runs in each of the first two innings and made it 5-0 in the fourth.
Tanner Whiteman and Chris Matteson would both see stints in relief, but the Warriors proved too much as J.C. Pena and Tyler Thomas both had two hits and two runs scored.
The Lakers' season concluded at 14-10, but that record hardly mattered as, with a 12-3 tear in the second half of the season and playoffs, Cazenovia went further – and achieved more – than any baseball team in the school's annals.
Vote on this Story by clicking on the Icon