Cazenovia — The Cazenovia McDonald's Restaurant is currently displaying a new group of art works by a Cazenovia College photography student and a visual communications illustration class now through early July.
A series of photographs by Jenna Petrone, a studio art/photography major from Stamford, are in one display case.
The photos were done for an assignment on creating composite photos, according to Assistant Professor and Program Director for the college's photography program Neil Chowdhury. "Jenna had a lot of fun with this, and I think it shows in the photographs," he said.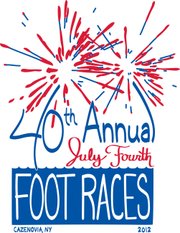 Several T-shirt designs promoting the Fourth of July Foot Race in Cazenovia are on display in another case. The designs were created in Professor Laurie Selleck's digital illustration class.
Designs by Kiley Barr of Cazenovia, Megan Buckner of Gilford, N.H., Jamie Sciortino of Smithtown and Michael Rohr of Needham, Mass., were selected for display.
"This project required the students to combine illustration with text and was limited to two colors, blue and red. Since it was a digital illustration class, all the type had to be hand-drawn, which most students did using a digital tablet," said Selleck, professor and program director for the visual communications program at Cazenovia College.
Sciortino said, "I enjoyed working on this foot-race illustration mainly because it was for a community event full of feet and patriotism."
Barr, who grew up in Cazenovia, said, "Doing this project has given me a sense of pride in my community and has shown me the patriotism it possesses."
Vote on this Story by clicking on the Icon