Memphis — Thanks to the 13 members of a northern Ohio-based organization, the cost of rebuilding the First Baptist Church of Memphis will be almost cut in half.
After the roof of the First Baptist Church collapsed in February, Church Care Construction was called in to help. Church Care Construction travels the country building and rebuilding various churches. The members work for free, cutting much of the labor costs.
"We are able to save churches a tremendous amount of money, because we are basically labor-free," said Brent Howard, project manager for Church Care Construction. "Our missionaries are supported by other churches to help build churches, so that eliminates the labor costs of the building project. So we can build for a lot less money and give them, actually, a bigger building than what they would be able to afford."
Members of the organization are currently living on the construction site of the new church, located on Route 5 in Camillus, in RVs. Some members are also temporarily renting apartments in the area while the organization is at work building a new, 24,000 square-foot building fit with a gymnasium, worship area and classrooms.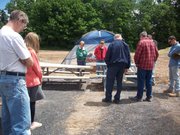 The missionary builders are currently waiting for a building permit before they begin working on the new church, said Church Care Construction director Howard Fraser. He said they are expecting to be granted a permit, hopefully, this week.
Once they obtain a permit, the builders will start laying the foundation of the building. Next will come the floors, building the structure of the walls, roof trusses, siding, windows and more, Fraser said. The organization is hoping to complete the outside of the building by the fall, after which they'll move inside the building and work on the interior during the winter months.
Fraser said he hopes the entire project will be completed by October 2013. This particular church, he said, is a larger project than what the organization normally takes on. In order to complete it in a timely matter, Fraser said they will reach out to members of the First Baptist Church of Memphis, as well as other community volunteers who are interested in helping.
(Continued on Next Page)
Prev Next
Vote on this Story by clicking on the Icon