Melanie Uhlig views herself as a protector of sorts.
The 52-year-old Fayetteville woman is one of 30 residents who are volunteering their time to patrol the Manlius Swan Pond 24 hours a day in order to protect the swans, Manny and Faye, and their eggs.
"It makes you feel good protecting them," Uhlig said. "They need somebody protecting them."
The "Swan Patrol" was organized just days after a Jamesville man destroyed the first batch of swan eggs. On Wednesday, April 25, Ross Leone, 33, was charged with fourth-degree criminal mischief, petit larceny, third-degree criminal trespassing, fifth-degree criminal possession of stolen property and interference with fish and wildlife.
Immediately after the incident, residents began organizing a team to help protect the swans and their recently laid eggs.
The 24-hour operation takes a lot of commitment. Typically, volunteers take two-hour shifts to watch the ponds. So far, Uhlig said, the residents seem to fully support the efforts of the Swan Patrol.
"I've had many people thank me, ask me as they're walking by if I'm on the swan watch, and I say, 'Yes,' and they thank me," she said.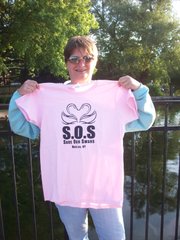 So far, Uhlig said she hasn't seen any suspicious activity by the pond. Swan Patrol coordinator Laurie Venditti said the only activity volunteers have reported has been very minor. She said on one occasion, a few high school students were disturbing the area, and fooling around.
"Just having the volunteers and their presence here acts as a deterrent," Venditti said.
A video surveillance system will also be installed in the area soon, Venditti said. Organizers of that project were hoping to have them installed last week, but extra cabling was needed, she said. They hope to finish installing the system this week.
Venditti said the patrol effort involves many people, including resident volunteers and members of the Manlius Police Department. She said the patrol team does report to the police, and officers are aware of the Swan Patrol's presence at the pond.
(Continued on Next Page)
Prev Next
Vote on this Story by clicking on the Icon