Cazenovia — When visitors of the Cazenovia Public Library walk from the back parking lot toward the entrance, they are able gaze upon a special garden containing various species of flowers and shrubs.
There is also sign on the barn that reads "Cazenovia Garden Club June 7, 1997," to commemorate its inception.
This garden is dedicated to the memory of the members who have worked in the local garden club and served to beautify Cazenovia through gardening.
Over the years, numerous members of the Cazenovia Garden Club have developed and maintained a memorial garden. In celebration of the club's 15th anniversary of the garden, the green space has been restructured by garden club member Barbara Wells.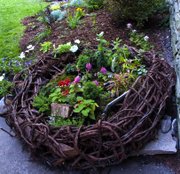 Most days, residents can see Wells working in the garden with her husband Chris Nevison, and their dog, BoBear.
Although not a member of the garden club, Chris has dedicated much time, energy and funding to this ongoing project. BoBear (a large labrador-retriever) lies on the sidewalk overseeing the work and has taken on the role of "official greeter" to library patrons.
The couple has planted multiple perennials that they said they hope will flourish in years to come.
Some plants came from Nancy Hook's home gardens. In addition, there are some annuals to accent the new structure. In the unique grape vine "nest" created by Val Heishman, the fairy village has brought many a smile to all ages.
All are encouraged to take a walk and enjoy a moment in the scenic garden, or sit on the bench and grab a moment of peace and tranquility.
Vote on this Story by clicking on the Icon