Cazenovia's newest restaurant and tavern promises to be a place where families can enjoy comfort food in a comfortable setting.
Henneberg Tavern, located at 64 Albany St., celebrated its grand opening celebration on Friday, July 27, with tastings of local beer and wine as well as samples from the menu.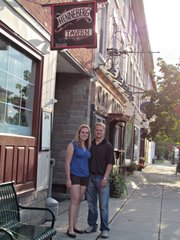 Maria Gallagher, the co-owner of Henneberg Tavern along with fiancé John Henneberg, said that the tavern came to be when their dreams of owning a restaurant met an opportunity in Cazenovia.
"We saw a need for a family restaurant and worked hard to make sure people got what they wanted," Gallagher said.
Gallagher and Henneberg, who currently reside in New Woodstock, bought the Albany Street space in June and began remodeling, to make what was once the Golden Pheasant Steakhouse into something that completed their vision.
Gallagher and Henneberg said they believe that a restaurant should honor local craft and the community. In that vein, the tavern's drink menu includes wine from the new Owera Vineyards on East Lake Road in Cazenovia, Good Nature Brewery in Hamilton and the Harvest Moon Cidery at Critz Farms.
Henneberg Tavern promises to offer fine foods that would accommodate most palates and price ranges. From a children's menu that boasts a dinner for less than $5, to reasonably-priced eggplant parmesan or prime rib entree, there are numerous options for any family.
Henneberg Tavern can be reached at 655-0609. The kitchen is open from 3 to 10 p.m. daily. For more information on the eatery and to read the full menu, visit hennebergtavern.com.
Terence Hartnett is freelance journalist for Eagle Newspapers, and a graduate of Cazenovia High School and St. Bonaventure University. He can be reached at hartnetc@bonaventure.edu.
Vote on this Story by clicking on the Icon