Cazenovia — The numerous cornstalks outside of Marlene Burrell's shop, Flowers on Main Street, located at 85 Albany St. in Cazenovia, are now about as high as an elephant's eye and expected to yield upward of 20 ears.
Though the area has experienced high temperatures and low rainfall this season, Burrell credits her nine-year-old helper, Ewan Hebert-Goldacker, for the flourishing local crop. The young gardener visits Burrell daily to pollinate the corn and water her other produce, including tomatoes, beans and basil.
"During the Sidewalk Sales I would help Marlene a little bit, putting price tags on things, now I just come down to water her plants and pollinate the corn," Herbert-Goldacker said. "I like it. It's really amazing to see how the corn has grown."
Burrell, who has operated her flower shop on Albany Street for the past 10 years, said she grows something different each year — but this is the first she has had cornstalks and such a diligent young helper, aside from her celebrity-chef daughter Anne Burrell.
"I would say the only reason the corn is as tall as it is, is because Ewan comes every day and waters it for me when I get busy. The other day we collected 14 tomatoes and I think right now we have 23 ears of corn growing," Burrell said. "We might have to have a corn roast on Albany Street soon."
Herbert-Goldacker, who is home-schooled, said he has also been growing some basil and mint at his own house, among other items, which make up a large part of his vegetarian diet. He recently concocted his very own ratatouille dish, using tomatoes grown outside Burrell's shop and other fresh, locally grown ingredients.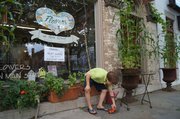 In addition to a green thumb, Herbert-Goldacker also has a musical mind. He plays the piano and said his favorite composer is currently Mozart. He is the son of local librarian Carole Herbert and grandson of Robert Herbert, the artist of many area storefront signs — including the heart hanging in Burrell's window. Every day, Herbert-Goldacker uses his grandfather's old paintbrushes to delicately brush pollen into the crevices of the cornstalk.
(Continued on Next Page)
Prev Next
Vote on this Story by clicking on the Icon