Baldwinsville — The Baldwisville Volunteer Center would like to announce that the 2012 winner of the Marilyn Swete Memorial Outstanding Teen Volunteer of the Year Award is Casey Devlin, a graduating senior from CW Baker High School.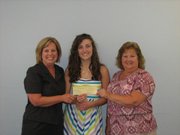 The scholarship winner's name was announced at the annual Moving Up Day Ceremony at CW Baker High School on May 25. Devlin was chosen to receive the $1,000 scholarship based on her dedication to volunteering in her community.
The selection committee was overwhelmed by the amount of time she has volunteered over her high school years, which has been hundreds of hours. In addition to volunteering at both her school and church, Devlin has spent countless hours volunteering with patients at Crouse Hospital in Syracuse.
"I feel blessed that my parents taught me that volunteering was important so early in life. I don't see [volunteering] as a chore, but as an opportunity to have new experiences," Devlin said. The Baldwinsville Volunteer Center would like to wish Casey good luck as she goes on to study at Marquette University this fall. We know that she will make all of Baldwinsville proud in her future endeavors.
Vote on this Story by clicking on the Icon