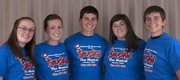 continued — Mullarney, who was awarded the BTG Scholarship for 2011, said there were other shows he was looking at, but "Seussical" was ultimately the one he favored the most.
"It has been a show I have always enjoyed and I'm pretty familiar with it. I know it is a very flexible show," Mullarney said. "I kind of knew what the stage looked like and the show just fit."
Not only is the show great for student actors, from sixth grade up through high school, it is also appropriate for all audience ages as the story and various lines are directly from the Dr. Seuss books.
One of the things Mullarney appreciates most about the production is how Dr. Seuss' stories often had deeper meanings, frequently dipping into the socio-political themes of his era.
Mullarney said the line, "A person's a person no matter how small," is a phrase that can go into some social issues seen even today, but in all the musical is a great kids show with some really nice depth to it.
"All the lyrics of the songs incorporate various lines from the Dr. Seuss books, so if you're really very well versed with the Dr. Seuss books you'll know, 'Oh this is from this story'," Mullarney's mom Karen said. Karen is also one of the show's producers.
Much like the story is a mash up of several Dr. Seuss characters, the way the production comes together on stage is a melding of five people's talents.
"We all kind of have our different jobs and, as the director, I've made sure to meet with the team," Mullarney said. "I made sure everybody was on the same page so it would look, sound and feel like one design."
With the show being more than 90 percent sung, Mullarney has been busy working on harmony with the cast, while others have been busy creating in other areas.
Vote on this Story by clicking on the Icon