Cazenovia — Eleven months after a large fire claimed Cazenovia Equipment Company's headquarters in Nelson, the new $3 million building in the town of Cazenovia was opened for business.
On July 19, the evening before the official grand opening of the business's new headquarters, located at 2 Remington Park Drive in Cazenovia, owners Mike and Jim Frazee held a ceremonious ribbon-cutting event and thanked those involved with the project.
"A lot of long nights and special meetings were held so that we could get things moving. We can thank Mother Nature for a gentle winter, but the town board really cooperated to get this project to where it is today," Jim Frazee said. "The backbone of Cazenovia Equipment is our employees. A lot of people worked awfully hard to get us functioning."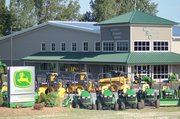 Currently, the business employs 39 staff members at the headquarters in Cazenovia. The Frazees said they plan to increase workforce to about 50 this year. The new building includes an expansive showroom, a 5,000-square-foot parts department, 12,000-square-foot service department with an overhead crane, office space on the second level as well as a community room that can be utilized for distance learning or public functions.
"Started in 1961 by Larry Love ... the company first expanded to Chittenango in 1988, and steadily grew to 11 locations by March 2009," Mike Frazee said. "We had been talking about a [new location] for a while even before the fire, and we are really proud of this building. It will serve us for a long time to come. If we outgrow this one, I guess that will be a good thing."
"It's a great example of a local family business that has endured hardship and ended up doing a fantastic thing for their customers, employees and our community as a whole," said Cazenovia Town Supervisor Ralph Monforte. "It's just been one success after another [in the last year]. Sometimes, bad things are the way great things start."
Pierce Smith is editor of the Cazenovia Republican. He can be reached at 434-8889 ext. 338 or editor@cazenoviarepublican.com.
Vote on this Story by clicking on the Icon