The first permit in Madison County was awarded to Adelbert Miller, of Brookfield. He applied for and received a permit on Oct. 16, 1920 that was reserved for pharmacists.
The permit allowed him to produce as followed: "Compounding medical preparations, manufacturing USP & NF preparations, sale of quantities of a pint or less to persons holding subscriptions (sic)."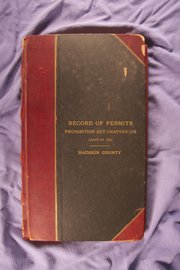 If Miller had been found in violation of what he was allowed, his permit would be immediately revoked and he could face a grand jury and further charges pending a sheriff's investigation.
While production was closely tracked, any person or business was required to file a permit for any liquor you had prior to the law going into effect. Staudt's Hotel (now Olcott's Hotel), in Oneida, filed for a permit notifying the county of all liquor on the premises that was purchased before the law went into effect. The hotel would have had to supply receipts to the county from the date of purchase to prove that the alcohol was purchased legally.

At least one resident who applied for the permit was arrested for selling liquor. Gustave Wagner, of Lakeport, was arrested in October of 1922 for selling drinks at his home.
Wagner had owned a saloon in Syracuse prior to the Volstead act and was found in possession of more than 150 gallons of wine, whiskey and mash at the time of his arrest.
He pled guilty to the charge and was assessed a $100 fine.
If you would like to see an index of all the people who applied for fruit juice permits, visit the new Madison County History webpage at madisoncountynyhistory.com.
If you would like to see more of the documents, stop by the Madison County Clerk's office. Also, become a fan of Madison County, N.Y. History on Facebook.
Matthew Urtz is the Madison County Historian. He can be reached at 366-2453 or matthew.urtz@co.madison.ny.gov. Urtz's sources for this article were: Madison County Clerk's Collection-Records of Permits; Prohibition Act Chapter 155; Laws of 1921; Madison County.
Vote on this Story by clicking on the Icon