continued — The Root Farm Vaulting team has been in existence for eight years and they have competed at vaulting competitions in locations including Denver, Colo., Herndon, VA and Lexington, VA.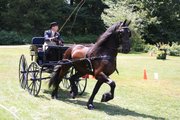 In early August 2012, the team will be competing in the national championships at the Kentucky Horse Park in Lexington, KY. The dedicated team coaches, Pete and Kim Senn, readily attest to the positive impact that the vaulting team has had on the many members that have participated since its start in 2004.
In addition, the annual silent auction held at the Lorenzo Driving Competition will benefit the Root Farm Center for Equine Assisted Therapies. The numerous volunteers and dedicated board members have compiled a fantastic group of items that will surely be of interest to all spectators.
The silent auction will be held during both days of the show and will close at 3 p.m. on Sunday, July 22.
To learn more about the Root Farm, visit rootfarm.org.
For additional information about the Lorenzo Driving Competition, visit lorenzodriving.com.
Carol Buckhout is president of the Lorenzo Driving Competition Board of Directors.
Vote on this Story by clicking on the Icon