Marcellus — When the London Eye lit up the sky for the first time tonight, Marcellus native Justin Manor looked on with pride. He probably breathed a sigh of relief, too.
That's because the art and technology studio he co-founded, SosoLimited, was running the show — with some help from Twitter-savvy Olympic fans.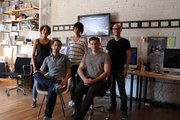 The 24-minute light shows run every night of the Olympics and are powered by the tweets of United Kingdom residents. The first show was tonight at 9 p.m.
"We have written software that captures all the tweets coming out of the UK mentioning the Olympics, and are running sentiment analysis algorithms on them to determine their emotional content," Manor, a 1996 Marcellus High graduate, wrote in a July 15 SoSoLimited blog post. "The rising and falling mood of the nation with respect to the Games is charted throughout the day on a large LED wall next to the Eye, and every night at 9 p.m., that data is played back out across full color architectural lighting fixtures around the Eye and with large ground based search beams."
Essentially, different colors depict different emotions.
"For example, good tweets will see the Eye bathed in yellows while bad tweets will show up as purple," according to a story on metro.co.uk.
The daily light shows can be viewed live here.
Manor founded Sosolimited in 2003 with John Rothenberg and Eric Gunther, who he met while studying at MIT. The company is based in Boston, Mass.
Vote on this Story by clicking on the Icon