Fayetteville — The first time I heard Jane Monheit it was over the airwaves of WAER-FM which programmed tracks from her debut disc, "Never Never Land" 12 years ago. Jane sang "Never Let Me Go," and I thought this is a talent to be reckoned with.
In 2008, I caught her live at Jazz'N Caz, and it was abundantly clear that – while her technique was flawless – she clearly sang from the heart. Jane displayed a resonant sense of swing as she purveyed the poignant lyrics of tunes such as "Between the Devil and The Deep Blue Sea" and "Embraceable You."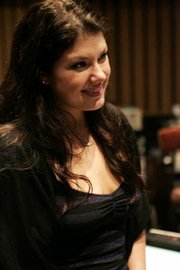 Raised in Oakdale, Long Island, Monheit now lives near Rome with her husband, drummer Rick Montalbano Jr., and their son, Jack. They've become, she told the Jazz'N'Caz audience, "The Folks Who Live on the Hill." Monheit dedicated that pastoral ballad from 1937 to her husband before delivering a transcendent "Over the Rainbow."
It was a performance I'll long remember. Her voice was both emotive and elastic, her phrasing cool and compact. With her girl-next-door persona, her flashing eyes and confident gait, the full-figured brunette effortlessly conveyed sensuality and intelligence in equal measure as she spoke to the audience and then sang accompanied by her top-flight quartet.
At age 34, Jane Monheit's now at the peak of her powers. While her singing flows naturally from somewhere inside her, it's a talent that has been carefully nurtured. A finalist in the 1998 Thelonious Monk Jazz Institute vocal competition, she has collaborated with Michael Buble, Les Brown & His Band of Renown, Tom Harrell, Ivan Lins and Terence Blanchard, and she studied with Peter Eldridge of New York Voices.
Jane has released more than a half-dozen albums starting with "Never Never Land," "Come Dream with Me" (2001),  "Taking a Chance on Love" (2004), "Surrender" (2007) "The Lovers, the Dreamers and Me" (2009) and her most recent, "Home" (2010).
(Continued on Next Page)
Prev Next
Vote on this Story by clicking on the Icon