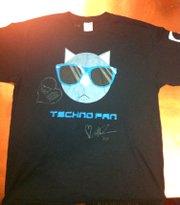 Skaneateles — At the age of 16, local artist Hailey Williams has seen more of the world and has better business sense than some people twice her age.
With the help of her business-minded parents, Stephanie and Brandon Williams, who made the decision to begin homeschooling when Hailey was in third grade, the Skaneateles teen has a bountiful art portfolio and a colorful future that includes a recent trans-Atlantic business deal with a major rock band.
"It was just so exciting, having that connection to the band and having them recognize and appreciate my work was just so exciting," Hailey said. "It was like Christmas had come early, it was an amazing experience."
The design — the face of a cat wearing sunglasses — was digitally created after listening to the song "Techno Fan" on The Wombats' latest album, "This Modern Glitch."
"I just was super inspired by their music and there are a bunch of pictures on Facebook of the lead singer [Matthew Murphy] wearing Ray Band sunglasses, so I decided to incorporate that into the design as well," she said.
The Williams family, who began raising their children in Seattle, Wash., moved around while the kids were young and permanently relocated to Skaneateles two years ago, decided on home schooling due to Brandon's frequent traveling for his job. They felt home schooling was an opportunity to create more family time and also continue the entrepreneurial spirit in a family where both parents are business owners.
Brandon is proprietor of IGNITE IP, a private equity fund focusing on intellectual property, while Stephanie raises honeybees for her business, Bee Attitudes Honey, and grows lavender as a food source for the bees. She also makes lavender oil.
"It's not that home school is better, but it's better for us," Stephanie said.
Hailey, who was in private school when the family lived in Seattle but now learns at home with her younger brother, enjoys this nontraditional education lifestyle. "We're liberal home schoolers," she said. "Home schooling has given me the opportunity to pursue things I'm interested in."
(Continued on Next Page)
Prev Next
Vote on this Story by clicking on the Icon