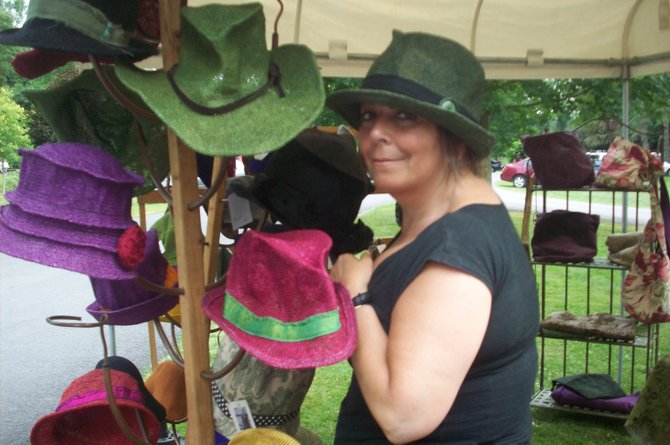 Marcellus — The Marcellus Open Air Market opened Thursday, June 7, in Marcellus Park. Throughout the summer, the Eagle Observer will interview farmers and other vendors at the local market to find out what's in season and what's in store for the coming months.
Introducing: Kathleen Barry, of Babouska, in Syracuse.
What are you selling today?
"I have a line of one-of-a-kind, hand-made hats. Some are made with recycled and vintage fabrics, and then I have a new line which is more traditional millinery, but I'm doing locking and dying and embellishing them with vintage trims, and buttons and things like that."
What makes your products unique?
"I think what makes my products unique is it's one-of-a-kind. I really do stuff in small batches, and I don't do repeats of anything. It's also all hand-made by these two hands; I don't have anyone working for me."
How did you get started in this business?
"I've always been a designer and an artist, and have done costuming, and I just started doing the fabric stuff about 20 years ago. I think I probably always wore interesting hats, and people were wondering where I got them, so I just starting making them, and it kind of evolved. The new line is more out my love of sculpture and form, and I really like manipulating fiber to do something different than what people are expecting it to do."
What attracted you to sell your goods at the Marcellus Open Air Market?
"Actually Schoolhouse Farms had talked to me about it, and I'm really interested in supporting local economy and local businesses, and I liked the idea of the community that develops around a farmers' market. I think art and music and good food and hand-crafts all go hand-in-hand, and it's a great way for those of us that are trying to do things in small batches to be supporting each other and doing something different than a big, box store."
And why should people at the market stop by your booth?
"I think people like to stop at my booth because they have fun. People think it's fun to try on my stuff, and they get to really play, and there's no obligation. I think my product is pretty unique."
The Marcellus Open Air Market runs Thursdays from 3:30 p.m. to 7:30 p.m.
Vote on this Story by clicking on the Icon