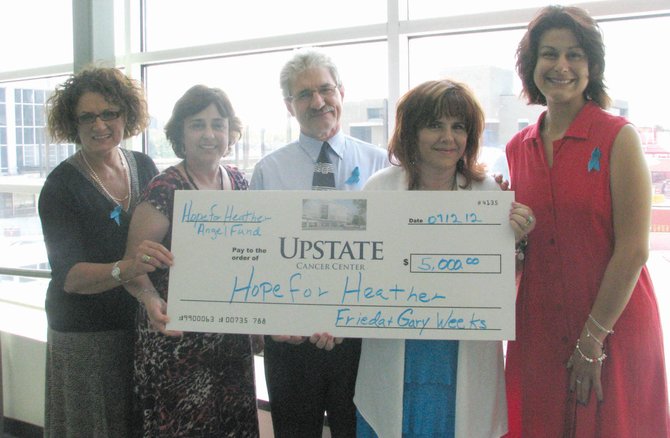 continued — In an effort to carry on her legacy, Heather's family founded Hope for Heather in May of 2009. The foundation seeks to raise money and awareness for ovarian cancer, which Heather did in her final job as assistant to Ovarian Cancer Research Fund CEO Elizabeth Howard.
Ovarian cancer is the leading cause of death from gynecological cancers in the United States and the fifth leading cause of cancer death among American women. Each year, approximately 20,000 American women are diagnosed with ovarian cancer, and about 15,000 women die of the disease. In 2008, it is estimated that 21,650 women in the United States will be diagnosed with ovarian cancer and 15,520 women will die from the disease.
The symptoms of ovarian cancer are very vague, making it difficult to diagnose. Only 19 percent of ovarian cancers are caught before cancer has spread beyond the ovary to the pelvic region. When it is detected and treated early, the five-year survival rate is greater than 92 percent.
"There is no test to diagnose ovarian cancer," Weeks said. "Its diagnosis usually comes in late Stage III or Stage IV. The survival rate has only improved about 8 percent in the last 30 years. We really need to press for research. We really need to raise awareness. We really need women to be aware of the symptoms, because they're very vague, and to take care of their bodies, and to be proactive with their doctors."
Because treatment is so aggressive, it's important to support patients and their families as much as possible. That's where the Angel Fund comes in.
"[The Angel Fund] will be administered by the hospital," said Terry Toscano Shenfield, corporate development officer for Upstate. "The social workers, the nurse practitioners, all the people who have direct patient contact, as they see needs come up, as they're talking with patients and see the things that they're having trouble with and what they need in terms of financial assistance or care/comfort, they'll know that the fund is available and they'll be able to help them."
Vote on this Story by clicking on the Icon