Baldwinsville — Representing preschools from various parts of Onondaga County, preschool directors meet throughout the year to share ideas and offer support to each other as they each strive to offer excellent early childhood education programs.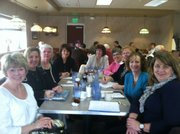 The director meetings have been held for quite some time and offer these experienced educators, which include representatives from several Baldwinsville nursery school programs, the opportunity to share a great deal of valuable information.
According to one director, "We all want each other to succeed. We each have unique programs, serving different areas and we are constantly bouncing ideas and strategies off of one and other to improve ourselves and our programs."
The group agreed that much has changed over time in terms of what is required to prepare children for their kindergarten experience.
At these meetings, the directors share creative methods of instruction where they are able to integrate literacy, science and math into purposeful play. They all look forward to the quarterly meetings and are grateful for each others' support and collective expertise.
Vote on this Story by clicking on the Icon