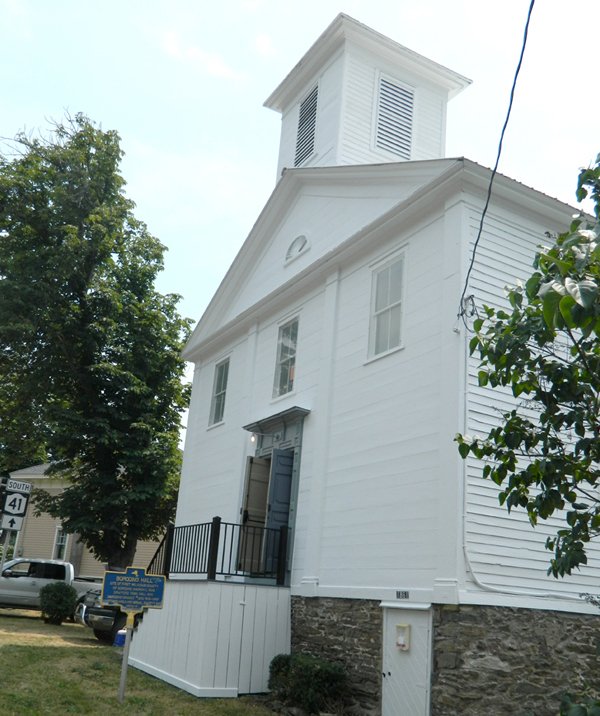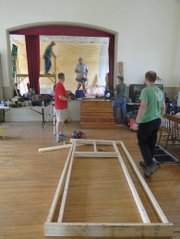 Spafford — The Spafford Area Historical Society, which has been working for more than a decade to renovate and restore the historic Borodino Hall at the four corners in Borodino, has recently received some much needed — and somewhat unexpected — help from members of the local community. Employees of Welch Allyn volunteered their time to rebuild the deteriorated stage area of the hall while an anonymous benefactor recently paid for a complete exterior paint job on the building.
The historical society has been diligently renovating the nearly 200-year-old building, and its members are hoping to have work completed by 2013 to allow the hall to be used for bigger, more extensive events and concerts. The ultimate goal is to help the building generate its own revenue for its continued upkeep.
"We are just overwhelmed with what's going on at the Hall, between the gift of the paint job on the outside and the Welch Allyn folks coming in to rebuild the stage … we're all feeling overwhelmed and overworked — but its worth it," said Mary Bean, president of Spafford Area Historical Society.
Borodino Hall, the former Grange Hall, at the four corners of Borodino, is a federal-style building constructed circa 1835, and one of the oldest buildings in the area. Spafford Area Historical Society bought the building from the Grange for $1 in 1997 and immediately began fundraising and renovation work. In 2006, the building was added to both the national and state Register of Historic Places.
While Borodino Hall was opened for use by groups and individuals for public and private functions in late 2008, fundraising and renovation — the latter being impossible without the former — have been ongoing.
Within the past few weeks, however, two major projects were accomplished by volunteers at no cost to the historical society or the town of Spafford.
(Continued on Next Page)
Prev Next
Vote on this Story by clicking on the Icon