After an opening game win in the 2012 Senior Babe Ruth Mid-Atlantic Regional Tournament, Onondaga East head coach Mike Meola knew his team faced a much taller task in its second matchup.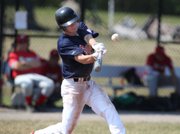 Onondaga West, representing Western New York in the tournament, awaited Meola's local Host squad, and both teams' managers believed a hot start would be a decisive factor in the game.
As they predicted, when Onondaga West took a three-run lead in the first inning and doubled that margin to six runs in the second, the deficit was too much for Onondaga East to overcome.
"That was the key - getting off to a good start," Meola said. "We didn't make a play, and they capitalized because they're a good team. I just thought we were playing uphill from there. We needed to get off to a good start and the complete opposite happened."
Onondaga West controlled the game the rest of the way to knock off Onondaga East 9-1 Thursday at Hopkins Road Park. Pitcher Andrew Sanders, from Ithaca College, dealt four one-hit innings against the overmatched East All-Stars, and Cicero-North Syracuse High School's Eric Hamilton tallied four RBI to power the Onondaga West offense.
For the West All-Stars, it was an ideal beginning to the tournament.
"We got some pitchers that got some work, we got a lot of people in, and I think for the most part we played crisp," head coach Ted Klamm said. "We played good defense. We had good at-bats. … This is really an ideal start for us."
Onondaga East earned the right to play Onondaga West after easily disposing of the Eastern New York representatives Washington County 12-3 in their opening game. In that contest, Onondaga East notched 13 hits and six different players tallied an RBI.
But the East All-Stars, comprised entirely of local high school players, struggled to hang with the Onondaga West squad that has 11 local college players on the roster.
(Continued on Next Page)
Prev Next
Vote on this Story by clicking on the Icon