continued — Moriah Dohner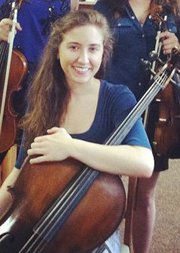 A talented cellist and a Rising Star in this years Cazenovia Counterpoint festival, Dohner is currently a senior cello performance major at Syracuse University. For Dohner, being one of the Rising Stars is a "wonderful opportunity to meet and work with other young musicians, both composers and instrumentalists, and to experience new music in the exciting context of learning a piece immediately after it's been written," she said.
Moriah began playing the cello at the age of 12. Her choice to play the cello was made when she heard it "described as the instrument closest to the human voice." She is currently studying with Caroline Stinson at S.U., Setnor School of Music and while in high school she studied with Florent Renard-Payen a teacher at Colgate University.
Dohner will be premiering a duo for cello and viola by composer Nikolas A. Jeleniauskas, written especially for her and Araujo. Moriah has enjoyed the process of having a piece composed specifically for her, her instrument and the work between the composer and the performers.
"This is a part of the process that I love — the exchange between composer and performer, enabling us to have a deeper understanding of the music and there by give more convincing performances," Dohner said.
Dohner's abilities as a cellist will be heard through the premiere of composer Nikolas A. Jeleniaukas' cello and viola duo on Wednesday, July 18, in Cazenovia.
Gregory Rosenthal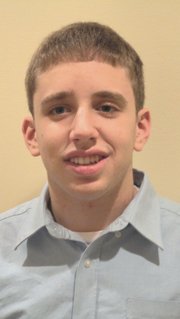 An esteemed pianist and a senior at Fayetteville-Manlius High School, Rosenthal is one of the Rising Stars selected by the Society for New Music for this Cazenovia Counterpoint.
"I am honored that the Society chose to recognize me for my musical abilities," he said.
Rosenthal started playing the piano at the age of seven because he had developed a curiosity for the piano in the family home. Gregory has taken classical piano lessons as well as jazz piano lessons.
Vote on this Story by clicking on the Icon