Cazenovia — Erin Araujo, Moriah Dohner and Gregory Rosenthal will perform at 12:30 p.m. July 18, in St. Peter's Episcopal Hall, at 11 Mill St. in Cazenovia, as part of the Cazenovia Counterpoint festival put on by the Society for New Music.
The three musicians are featured as "Rising Stars," and will be premiering compositions and presenting musical selections during the free event, which is open to the public.
Erin Araujo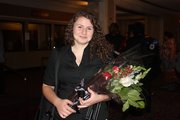 A talented viola player who also plays piano and guitar, just graduated from Fayetteville-Manlius High School. Araujo plans on attending the University of Pittsburg in the fall.
"To me the honor of being a 'Rising Star' at the Cazenovia Counterpoint festival means that I'm being recognized for my achievements in music and my passion for my instrument," Araujo said.She began playing the viola at the age of nine and was taught by the staff at her schools, as well as receiving private lessons beginning in the sixth grade.
Araujo said she chose the viola because she "had never heard of the viola before they presented the string instruments to my class in elementary school, and I thought it would be interesting to try something new," Araujo said.
Her most recent performance was at the CNYAMT Senior division competition in which she received first place. She has also participated in a number of performing groups, such as the New York State All-State orchestra.
Araujo said she has been influenced by every musician she has performed with; however, she feels her biggest influences have been her music teachers. She thanked them for fostering her personal and technical growth with music. She also thanked her parents for never missing a concert, and her brothers and the rest of the family for being a support in all her musical endeavors.
Araujo will be playing Schubert's "Arpeggione," plus premiering a duo for viola and cello by composer Nikolas A. Jeleniauskas, written especially for Erin and Moriah Dohner on Wednesday, July 18. She describes the Schubert composition as dark, "filled with passion and a bit of angst."
(Continued on Next Page)
Prev Next
Vote on this Story by clicking on the Icon