Fayetteville — Jeff Schuessler knows that to make it as an artist, you have to play all the angles.
Making art is one thing. Marketing it is quite another.
It's a little like fishing. The more lines you drop into the water, the more bites you're likely to get.
Carefully baiting all his hooks, Schuessler – who has a day job as a high-school teacher – has opened a gallery, a hat and clothing company, created graphics for Infinite Designs and has developed websites with Byrne Advertising.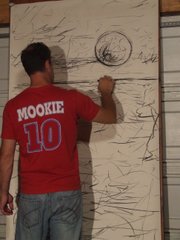 Before ultimately switching to art education, the versatile Schuessler studied advertising, and he now teaches art at Fayetteville-Manlius High School. While matriculating at Syracuse University in the 1990s, the budding artist was a star lacrosse player on championship teams coached by Roy Simmons Jr., himself a noted sculptor and collagist.
Recently, Schuessler opened a new exhibit space, the Silverwood Gallery, at 7393 Silverwood Drive, Manlius; 529-6669; JeffSchuesslerArt.com. The Silverwood will initially exhibit his own artwork exclusively, but he plans to open the space to other artists in the future.
Over the past decade, Schuessler has worked hard to forge partnerships with influential art scenesters such as former Madison Avenue gallery owner Richard Castellane, who commissioned a major installation. Like most of his artworks, Schuessler's central idea for Castellane's "Meditation Altar" was simple: a ball on a hill.
The collegiate laxman now chases a different ball as he displays his conceptual artworks everywhere from Syracuse to Utica, from West Palm Beach to Armory Square.
This past January, Schuessler showed selected charcoal works at Harold's Coffee Lounge in West Palm Beach, Fla. And now his "Inertia Series – Eclectic Selections" is hanging through mid-August at Pastabilities, 311 S. Franklin St., in Syracuse's historic Armory Square; 474-1153.
Schuessler's focus on theories on motion and time began with the thought of a ball rolling down a hill. That natural curiosity that began during his adolescence evolved over time, yet his works – such as the charcoal drawing "String Theory" and the oil-on-canvas called "Stare" – consistently and cleverly reflect his initial central idea.
(Continued on Next Page)
Prev Next
Vote on this Story by clicking on the Icon