Manlius — BizEventz has named Scott Kingsley, executive vice president and chief financial officer for Community Bank System, Inc., Financial Executive of the Year in the $50-300 million revenue category.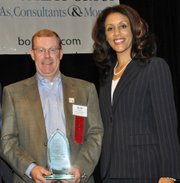 During the economic downturn of the past few years, when so many banks were inwardly focused on survival, Kingsley was an integral part of a driving force in keeping the company focused on providing more value to its customers and, in turn, helping the company to reach new highs.
In 2011 the company reported record results, including record earnings per share for the second consecutive year thanks in part to the acquisition of Wilber National Bank. Kingsley was part of a team instrumental in coordinating many aspects of the Wilber transition, an expansion that welcomed 52,000 new retail and business customers and 22 branches from Wilber National Bank. Under the leadership of Kingsley and others, Wilber customers have grown their existing deposit balances with Community Bank since the merger, and the contribution from their relationships resulted in the acquisition being immediately accretive to the company's earnings.
In January 2012, Kingsley's leadership skills were put to the test again as the bank announced yet another retail banking expansion opportunity — the acquisition of 19 bank branches and $955 million in deposits from First Niagara and HSBC NA.
Kingsley lives in Manlius with this wife Doreen and their four children. He was born and raised in Potsdam.
Community Bank System, Inc. is a registered bank holding company based in Dewitt with $6.2 billion in assets.
Vote on this Story by clicking on the Icon