Cazenovia — This year, when visitors arrive at the Friends of Cazenovia Public Library Book Sale at the new starting time of 9 a.m. on Saturday, July 28, they will, of course, pass the penguin, at one point take a break from shopping in the tent and the newly-air-conditioned Community Room by sitting on the Janet Andrews memorial benches to the right of the barn door – but, eventually, find themselves in the crown jewel of the book sale venues – the barn.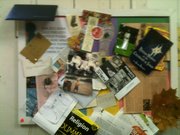 The bulletin board with the display of various finds taken out of the donated books will be on display. It provides a slice of Americana in its varied assortment of bookmarks, photos, letters, articles and other items that are fast becoming historical documents.
The Friends of the Library board recently decided to make this eclectic collage after they shared the new library book "Forgotten Bookmarks: A Bookseller's Collection of Odd Things Lost Between the Pages" by Michael Popek.

The most fascinating item found in the 2012 collection is a letter dated Feb. 28, 1919, from John J. Pershing, commander in chief of the American forces in WWI, to a returning soldier from the 53rd Infantry. It is a powerfully-crafted thank-you letter in which Pershing wrote, "As an individual, your part in the world war has been an important one in the sum of our achievements. Whether keeping lonely vigil in the trenches, or gallantly storming the enemy's stronghold; whether enduring monotonous drudgery at the rear, or sustaining the fighting line at the front, each has bravely and efficiently played his part … With a consecrated devotion to duty and a will to conquer, you have loyally served your country."

After reading the letter, library historian Elisha Davies used Ancestry Library to see if this soldier was from Cazenovia. Ancestry Library is available for all patrons to use and was purchased by the Friends of the Cazenovia Library.

(Continued on Next Page)
Prev Next
Vote on this Story by clicking on the Icon