continued — Nicholas Blaney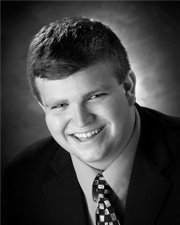 A baritone, Blaney is one of the talented young musicians being featured at the Cazenovia Counterpoint festival this July. He is currently an undergraduate in the Simon School of Business at the University of Rochester.
Blaney said that being featured as a "Rising Star" "by such an outstanding professional arts organization as Society for New Music is a great honor and distinction. The Society is widely revered as a cultural force in the Upstate New York community and beyond. I'm very proud to be a part of that tradition of excellence."
At the age of nine, Blaney joined the Syracuse Children's Chorus and remained a part of the choir for four years. Through the choir director he was able to meet "his musical mommy," soprano Dr. Eileen Strempel.
Blaney currently studies voice with tenor with Robert Swensen of the Eastman School of Music. He said he chose to sing because "there is nothing like using your own voice as a vehicle for unlimited expressivity and emotion."
Blaney also said he feels like singing is more natural, even though he also plays the piano and played low brass instruments in high school.
Blaney has achieved many honors, such as being a finalist in 2009 and 2010 for the National Classical Singer Competition and receiving commendation from the National Foundation for Advancement in the Arts in 2010. He also studied Italian art song at the Bel Canto Institute in Florence and won the Bel Canto Performance Award (2009).
Blaney was a part of the 2011 Cazenovia Counterpoint, and premiered a work by Louis Lohraseb's art song, "She Walks in Beauty" in collaboration with pianist Sar Shalom-Strong. Blaney said his early teachers, Dr. Barbara Tagg and Dr. Eileen Strempel, were significant influences musically and he tries to "use those lessons every day, in all aspects of life." He said he'd like to thank Dr. Strempel of Syracuse University for being his "rock of knowledge, support and love for the past six years."
Vote on this Story by clicking on the Icon