Cazenovia Village Trustees Dave Porter and Jim Joseph were officially sworn in for two-year terms on Monday, July 1 in the Municipal Building, as they took their oaths of office in front of the village board and members of the public. While Joseph will be serving this first term as a trustee, Porter was re-elected for a second term during the recent election.
"We are very pleased and excited to have the both of them on board," Village of Cazenovia Mayor Kurt Wheeler said.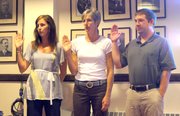 Also sworn in to their respective roles during the village board meeting were residents Adam Walburger, Jennifer Gavilondo and Tara Hartley. Walburger will serve a five-year term on the Cazenovia Village Planning Board, and Gavilondo will serve a one-year term, as she is filling the seat occupied by Charles Macaulay before he resigned. Hartley will serve a four-year term as a member of the Cazenovia Village Zoning Board of Appeals.
Wheeler announced planning board Member Rich Huftalen was appointed as chairman, in William Hall's absence.
In other board news:
—Dave Katleski, owner of Empire Brewing Company, spoke to residents of receiving state-level approval for the business' plan to build a farm brewery on 22 acres off of Route 13 in Cazenovia. Katleski said the location will serve as a manufacturing plant for packaged products to be sold in stores across the area, employ about 75 people as well as spur beer-enthusiast agri-tourism in Cazenovia. A joint public hearing between the village and town boards was set for 7 p.m. July 31 in the Municipal Building to discuss the annexation of land into the village from the town.
—Receipt of former Village of Cazenovia Mayor Dennis Gregg's request to change zoning for a 48-acre parcel of land was acknowledged. Gregg, of Gregg Development, wishes to change the parcel referred to as "South Meadow" from R-30 to R-6.
(Continued on Next Page)
Prev Next
Vote on this Story by clicking on the Icon