Cazenovia — Now that drivers and pedestrians crossing the Chittenango Creek via Clark Street in Cazenovia are able to do so once again, they will have to refer to it by its new title, the "Assemblyman Bill Magee Bridge." During a ceremony the afternoon of Friday, June 29, Village of Cazenovia Mayor Kurt Wheeler unveiled the new signage and thanked Magee for helping ensure the bridge's repair in a timely fashion.
"We want to thank Assemblyman Magee for his advocacy and helping to secure the … share of the funds that made the earlier-than-slated replacement of this bridge possible. Every time our local communities need something, he immediately springs into action," Wheeler said. "It was a tremendous team effort. A lot of people helped to make this a reality. The town and the village worked collaboratively with the county to go through a lot of legal procedures while the village was trying to regain possession of the bridge. I'd be remiss if I didn't also thank the members of the public, who were very supportive and encouraging during the process."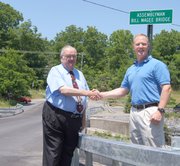 Magee, who secured $150,000 of state funding through a Multi-Mobile Money grant, was pleased to receive the honor.
"All I was doing was my job," Magee said. "I was initially approached by the village, who expressed the seriousness of the need for this bridge being restored for the safety of the people in the area. I took that back to Albany to the speaker of the Assembly, who helped me secure Multi-Mobile money. It was difficult, but there was some money out there which was set aside for vital highways and bridges."
Also in attendance were Cazenovia Village Engineer John Dunkle; Charlie Sirowatka of Tioga Construction, the company that replaced the bridge; Greg Sgromo of Dunn and Sgromo, the engineering firm that provided the village with engineering reports; and Tara Hartley, a newly appointed member of the village planning board and Burton Street resident who was credited by Wheeler as an advocate for the Cazenovia public.
(Continued on Next Page)
Prev Next
Vote on this Story by clicking on the Icon