continued — "[Section 28-A] allows the village to give the property owner a final chance to rectify an issue that exists and, if not, it allows the village to move forward and by an order of the state supreme court, to have the unsafe condition remedied and costs incurred by the village, which can then be assessed against the property," said Humphrey.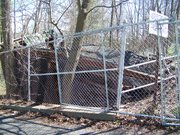 Most recently, the village used Section 28-A to erect a fence around a dilapidated garage in the village. "We had received reports of children playing in and around the structure and due to its unsafe condition and considering the safety of children an emergency, we moved quickly to eliminate access to the structure. We also notified the owner of the property and ordered its removal," he said. "We are trying, like so many municipalities, to remove the unsafe, dilapidated structures that only help to bring property values and morale down. We want our residents to have a thriving, confident village to call home."
Baldwinsville isn't the only municipality enforcing municipal codes. Van Buren's Code Enforcement Officer David Pringle has been just as busy cleaning up the town.
Most recently, town officials approved the demolition of Van Buren properties at 6472 Bennetts Corners Road (cost of $14,800) and 1764 Warners Road (cost of $11,500).
"There are numerous deficiencies with each building … the structures are not habitable," said Supervisor Claude Sykes. "It should be noted that the taxes have not been paid since 2007 and every notice issued by codes officer has been ignored. It may be possible that these properties have been abandoned."
The cost of demolition and all appropriately related charges were placed against each property on their 2013 tax bills.
The increased focus on property cleanup may be due to a new law in which municipalities can streamline the once cumbersome route to addressing dangerous and nuisance properties. Rather than going through the state, ticketed land owners can come before the municipality to plead their case as to why properties should not be torn down. If it is decided the municipality should proceed with the demolition, there is no expense to the taxpayer as the county makes the municipality whole on demolition expenses.
Vote on this Story by clicking on the Icon