continued — Dower, who has owned the lots for several years, said it was a complicated process to finally get to the Mobil station demolition stage due to necessary dealings with state's environmental rules and regulations and National Grid, as well as multiple local zoning and municipal issues.
As plans progress for future improvement of the two lots, Dower will need to consult and work with both the village and the town of Skaneateles because the Mobil lot is part of the village, but the BP lot is part of the town. The highway-fronted town land is zoned commercial but the village land is zoned residential, while water and sewer lines on both properties cross both village and town boundaries, Dower said.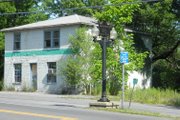 The "reasonable approach" to the lots potential future use will be to sketch some plans, sit down with the planning boards of both village and town and discuss ideas, he said.
While the corner lot will be a vacant green space during the interim, the old BP station building — on the right side of W. Genesee Street going west toward Auburn, currently with peeling white paint and a green middle stripe — will remain standing because it still is a sturdy structure that can be reused, Dower said.
Jason Emerson is editor of the Skaneateles Press. He can be reached at editor@skaneatelespress.com.
Vote on this Story by clicking on the Icon