Manlius — For the past weeks, Fayetteville-Manlius High School graduate Trish Gallen has been teaching fitness and yoga classes at the Swan Pond in Manlius. Last week she took time to tell us what her classes entail, who can take them, and why offering them at the Swan Pond was an easy decision.
When did you graduate from F-M?
"I graduated in 1995."
Tell us a bit about your journey since then. How did you end up back in Central New York?
"I spent the past 11 years on Nantucket Island. I owned a restaurant there for six years. After the restaurant was sold, I decided to go back to school to become a personal trainer and yoga teacher, which were two of my lifelong dream jobs. I went to The American Academy in Boston and became a certified personal trainer, and then I went to Santa Barbara to study at the White Lotus Foundation to become a yoga instructor.
"I decided to move back to Manlius because of the great schools and to be closer to my mother. I have two small children, so it's important to be close to family. Also, the seasonal transitions on Nantucket can be tough. It's great to be home and have more of a solid year-round routine."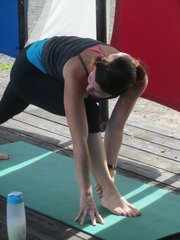 What led you to teach classes at the Swan Pond?
"I've always loved the Swan Pond. It is so welcoming and beautiful. I was with the kids one afternoon feeding the ducks on the lower pond and looked at the pavilion. It seemed like a perfect setting for an outdoor yoga class. I called Judy Salamone at the Village Centre and ran the idea by her. She liked it and plugged it to a few other people. We also began to chat about outdoor fitness classes on the soccer field and how great that would be during the summer. We fleshed things out from there."
(Continued on Next Page)
Prev Next
Vote on this Story by clicking on the Icon