Cazenovia High School graduating seniors Kathryn Costello and Patrick Marris were both honored on June 11 at the Section III Scholar-Athletes Dinner at the Rusty Rail in Canastota.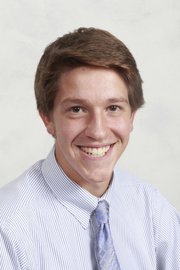 Costello, who had a 97.15 school average, played both soccer and lacrosse for the Lakers, while Marris, who maintained a 98.13 school average, competed in tennis and soccer and also had a brief stint with the baseball team.
Students from most of the 108 Section III schools were honored at the dinner. The Scholar-Athlete Award is the highest academic honor bestowed by the organization.
To be eligible for selection, student-athletes must have maintained a cumulative grade point average of 90 or better, and have participated in varsity competition in a Section III-sponsored sport.
Other factors such as community service, exemplary citizenship or other extracurricular activities are taken into consideration.
Twenty-four of the 144 Scholar-Athletes are ranked No.1 in their class and 117 of the 144 honorees were ranked 10th or higher in the respective class.
Phil Blackwell is sports editor for Eagle newspapers. He can be reached at 434-8889 ext. 348 or pblackwell@eaglenewsonline.com.
Vote on this Story by clicking on the Icon