Town of Onondaga officials, firefighters and police say the new burn tower was a long time coming.
The old tower, built in 1987, was used to train firemen in navigating smoke-filled buildings, handling hose lines, rescuing someone from a burning building and much more. But over the years, it deteriorated.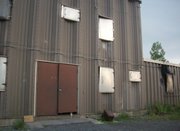 "The old training tower was coming up to 30 years, and due to the amount of use that it had, the wear and tear of doing live burns started to catch up to it," said Onondaga Fire Training Center president Tom Sauer. "It was just time to replace it with something that's newer."
The organization held a ribbon-cutting ceremony at 10 a.m. Saturday, June 30, to unveil the Fire Training Center burn tower to firemen and town officials across Central New York.
The tower, funded by taxpayers, is not only used by the eight fire departments in the town of Onondaga (Howlett Hill, Navarino, Nedrow, Onondaga Hill, Sentinel Heights, Southwood, South Onondaga and Taunton), but also Fayetteville, Minoa, DeWitt, Kirkville, Camillus and Madison County fire departments, just to name a few.
The new tower comes with safer and more advanced technology that will help further the training of local firemen, and ultimately, help save more lives.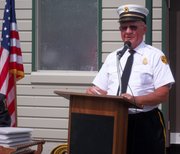 A history of the training center
In 1982, the first president of the Onondaga Fire Training Center, Darrell Burton, began to inquire about how to obtain land to set up a training center for local firemen. He negotiated with then-town supervisor Paul Wicker for quite some time before the center was able to move forward, he said.
"For the next five years, there were many struggles and many accomplishments. It took years of paperwork and phone calls to Albany, especially, to finally get our non-profit status," Burton said.
In June, 1982, the Fire Training Center of the Town of Onondaga received five acres of land, at 4600 Nixon Park Drive, as part of a 13.7-acre donation to the town by Joseph Scuderi.
(Continued on Next Page)
Prev Next
Vote on this Story by clicking on the Icon