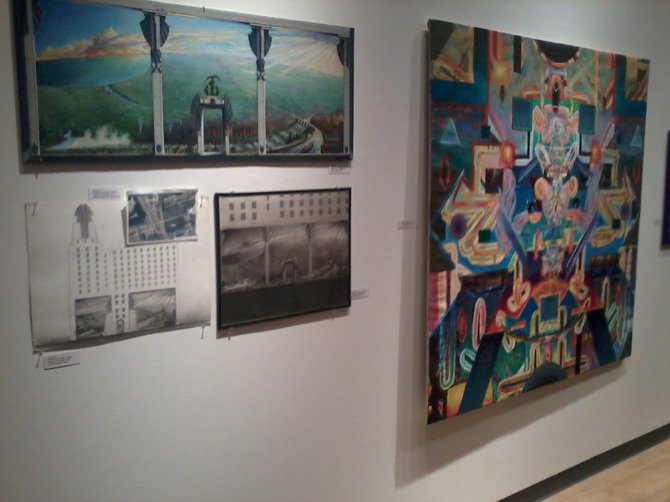 Steen spent much of her time collecting ethnic patterns with an eye for how to incorporate them into fashion design. Her work included a long Powerpoint presentation and many wall photographs depicting "the best images that the camera caught through luck and through skill."
It was in Zanzibar that Steen became involved with the ZYAA Gallery (Zanzibar Young Artists' Association), and its women's cooperative of henna artists. These artists marketed their work with cards and wall-art, some of which Steen purchased.
She sent the henna designs to her students in Mauritius, who took them as inspiration for "resort wear," and to her students in Cazenovia, who used them in the design of storyboards for never-executed fashion pieces.

Drawing inspiration from the henna designs, Steen created three beautiful pieces — a tank, a sarong and a wrap —which are also on display in the gallery. She had a small show in Zanzibar's "House of Wonders" — named so because it was the first building in Zanzibar to have electricity.

The exhibition runs until Feb. 17.
Paul Shepard is an alumnus of Cazenovia High School and Bard College. He is a contributing writer at Eagle Newspapers and can be reached at paul.adams.shepard@gmail.com.
Vote on this Story by clicking on the Icon