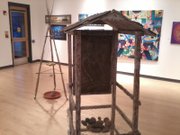 Anita Welych presented three separate sets of work. One entitled "Homage to Mothers," was a series of collages on handmade paper concerned with the topic of motherhood. She also partnered with a Puerto Rican artist, Yolanda Daliz, to produce a series of digitized collages entitled "Madre Naturaleza — Mother Nature." These were created via a back-and-forth between the two artists via the internet. One would initiate, then the other would add a layer and send it back, and so on until both were satisfied with the finished product. Welych likened this process to "a call and response," with which they understood "the same stories in two distinct voices."
Welych's third and focal offering consisted of "the first of a series of mixed media sculptures of 'birdhouses' (in a loose sense) constructed specifically for birds that have become extinct or are critically endangered," as her artist-statement puts it.
These birdhouses were composed of such diverse materials as charred wood, stones, bamboo, cast wax and amethyst glass.
The reason for her sabbatical was "to explore extinct birds as a metaphor for loss," Welych said. She sought to combine human and natural objects in the construction of her birdhouses because all the birds in question became extinct through contact with humans.
Her birdhouses are "a metaphor for the futility of human action." Only three such birdhouses are on display in the gallery, but Welych has ideas for many more, with "the ultimate goal of an installation with sound and projections."
"There's so much information I want to translate," Welych added.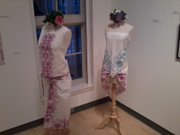 Karen Steen spent her sabbatical traveling to a total of 10 countries in Asia and Africa – mostly the latter. She spent 10 months at the University of Mauritius, a small island nation off the coast of Eastern Africa, teaching on a Fulbright fellowship.
Vote on this Story by clicking on the Icon