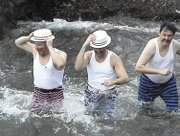 Skaneateles — The snow and rain held off but the wind and cold made it a brisk afternoon Saturday, Jan. 28, as upwards of 1,000 people came to downtown Skaneateles to sample food, shop, explore and watch people jump into the frigid lake for this year's Winterfest celebration.
"This is an event for the community, by the community," said Tom Seeley, Skaneateles Sunrise Rotary Club member and chair of its Winterfest Committee. "The weather's been beautiful; it's a perfect day for a plunge and a great day for a party in the village."
Winterfest is the Sunrise Rotary Club's primary fundraiser each year. The event is a daylong celebration throughout the village featuring ice sculptures, the Taste of Skaneateles culinary samplings, sled dogs, trolley rides and the much-anticipated Polar Bear Plunge into the icy lake waters.
Proceeds raised by Winterfest are used to support Rotary service projects and other charitable causes. Last year's event raised $8,000, and this year's celebration was expected to raise even more, Seeley said.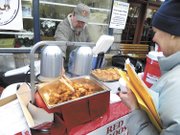 The total amount raised this year was not available as of press time.
The typical highlight of each year's Winterfest is the Polar Bear Plunge, sponsored by the Skaneateles Polar Bear Club as a charity fundraiser. The plunge benefits the Skaneateles Education Foundation, the Skaneateles Ambulance Volunteer Emergency Services and the Skaneateles Fire Department.
This year, more than 60 people on 13 teams jumped into the frigid waters of Skaneateles Lake to raise money for the event. Each plunger had to submerge themselves in the lake for at least 10 seconds before coming out.
Teams with names such as "Found'g Fathers," "Shock and Thaw" and "The Superheroes" not only jumped in Skaneateles Lake, but had fun wearing outlandish outfits and hamming it up for the large crowd.
Each swimmer paid $50 to join the plunge, and each team also raised money for charity. This year's top fundraiser was the team "The Bijou Girls and George," composed of all the employees of Bijou Salon, who raised $1,100.
(Continued on Next Page)
Prev Next
Vote on this Story by clicking on the Icon