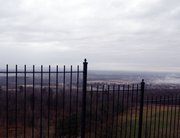 continued — Spicer and Sorrentino teamed up with Dr. Steve Kinne to bring Clear Path to Chittenango — their first priority was launching Dogs2Vets. The program aims to pair shelter dogs with veterans who have been diagnosed with post traumatic stress disorder or military sexual trauma, in order to train the dog as a psychiatric service dog. Studies have shown, Kinne said, that the dogs can help when the veteran is having flashbacks or about to enter into a panic attack.
The dogs are adopted from local shelters, like Wanderer's Rest, or the Humane Society's in northern New York, closer to Fort Drum. Many of the dogs abandoned in Jefferson County are left behind by soldiers.
Recent reports by the U.S. Army show the number of suicides among soldiers is 32 per day, also showing an increase in soldiers who have been diagnosed with post-traumatic stress disorder and military sexual trauma.
"A lot of these veterans shut down their emotions," Kinne, a retired Air Force Colonel, said. "It's all a part of surviving during war but it doesn't translate well here."
The hand-picked dogs are paired with a veteran in the program. Something that makes the program unique, Kinne said, is that the soldier then trains the dog to become certified as a service dog. The training process is as therapeutic as having a service dog, he said.
"We know how much animals can help," Kinne said. "The idea was, what if we can help dogs help vets? Many veterans, when they come back, they often start isolating themselves. The dog forces them to get out."
The year-long program will bring the veterans to Clear Path's facilities, which includes an expansive training area in the basement and miles of trails surrounding the facility.
"Over time, the dog and the veteran get to know each other so they're completely bonded," Kinne said. "That allows the dog to tell the veteran when things are changing."
Vote on this Story by clicking on the Icon