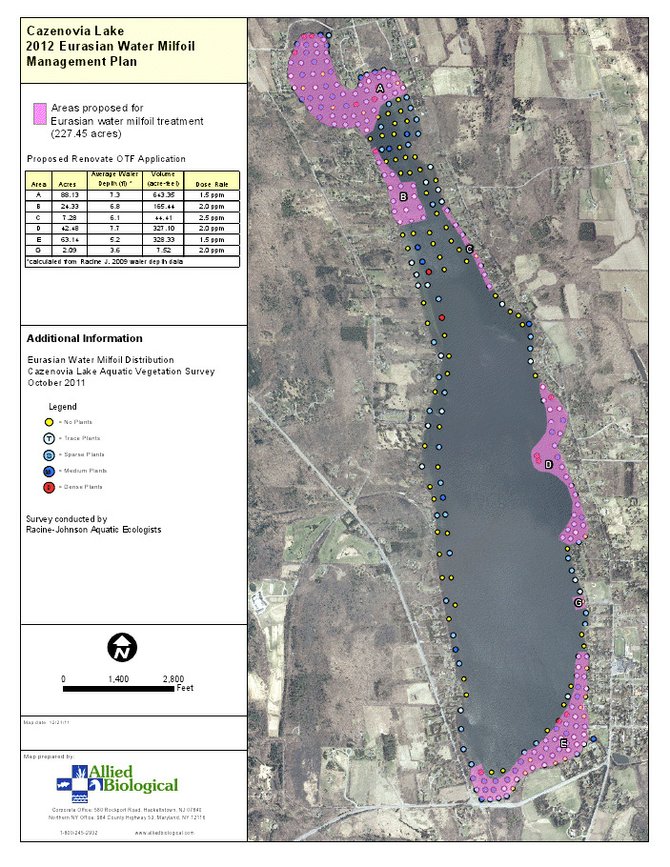 continued — According to Moran, there will be several precautions taken for the treatment.
To see the Draft Scope:
The Draft Scoping Document is available online at townofcazenovia.org under the "Caz Lake Restoration" section. The title of the document is "PHASE III, 2012 Treatment, Draft Scoping Document."
The document can be found at:
townofcazenovia.org/content/Generic/View/28:field=documents;/content/Documents/File/558.pdf
A hard copy of the document can be acquired by visiting the town office at 7 Albany St.
Public comments can be submitted to Town Clerk Linda Mather via email at matherllc@live.com, through the postal service or in person.
Swimming will be banned for approximately one day during the application, the village boat launch will be closed, notification signs will be posted on Chittenango Creek and notification mailings will be sent out.
"[Herbicide application] will be done during the week, so we hope that it will minimize disruption to recreational use of the lake," Moran said.
The entire chemical treatment process is estimated to cost approximately $190,000.
The cost will be split between the town of Cazenovia and the lake association at a 3-1 ratio, respectively.
Town Supervisor Ralph Monforte explained this treatment would help improve the lake in a lot of ways. "The weeds have a tendency to take oxygen out of the water creating a less stable environment for fish," he said. "After a certain point the weeds make it difficult to take a boat out without getting stuck; weeds are unsightly and hurting the value of properties around the lake and they can clog water lines."
Andrew Casler is a Caz High School alumnus and freelance journalist for Eagle Newspapers. He can be reached at arc294@cornell.edu.
Vote on this Story by clicking on the Icon