As fewer children are born and fewer families move into the district, it seems the trend of declining enrollment will continue.
"What we're not seeing is 20 new Kindergarteners or 20 new first-graders. We're not seeing enough to add sections," Dubik said. "Out of the 95 homes sold in Cazenovia last year, 20 percent of those have kids … We're not seeing any growth. The help that we need is from our local representatives in the town and village."
Dubik thinks the solution lies with the inclusion of new, lower-priced housing, aimed at attracting young families to the area. He said the new affordable-housing developments in Chittenango have helped the school district see an increase in enrollment and growth of the tax base. A number of teachers, currently employed at Cazenovia schools, are new residents of Chittenango.
"The village shares the school district's concern about declining enrollment," said Cazenovia Village Mayor Kurt Wheeler. "Our schools are at the core of our community and declining enrollment over the long term will impact the viability of programming that is valued not only by our students but our entire population. We hope to work with the school on several fronts to reverse this trend. Our community survey initiative is designed to identify the items most important to our quality of life in order to preserve and enhance them. Our desire is to make Cazenovia the most desirable community in Central New York in which to live. When a family moves to the greater Syracuse area, we want Cazenovia to be their first choice. We also hope to improve the climate for economic development to create jobs and grow our tax base while increasing our inventory of moderately-priced homes."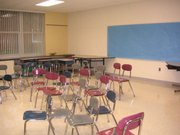 Because of lower numbers in the elementary school, the district has decreased the number of sections to five. Dubik said if trends continue as they are projected, the district may possibly have to decrease each grade by one section in the coming years. Over the course of 12 years, each grade would lose one instructor.
Vote on this Story by clicking on the Icon
More like this story